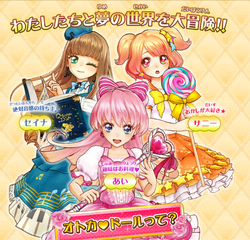 The
Otocadoll
game is a Japanese arcade game created by KONAMI. The game consists on magical idols who gather energy through the rhythm of songs, which is used to defeat rivals or monsters. To play it the User is required to have a ticket that will identify them as an idol.
It was released in 2015 and is currently celebrating its 2nd anniversary. Every other month, a new collection is released with new coords, accessories, and sometimes, characters.
Thematic
Edit
The objective of the game is to gain the most energy to change ranges and battle the various rivals that appear throughout the levels. To do this the Player will gain various outfit pieces or items to make accessories to power their Idol up. When the user has powered enough, they will have some attack options to decide which one to use and cause damage to the rival. The bigger the attack is, more energy will be used.
There are also options to change character´s color scheme, coords, accessories, weapons, and songs
Rival Characters can also be unlocked and used in battle. .
Coord Rarities
Edit
The coords rarities are divided into categories:
Normal (bronze)
Rare (silver)
Super Rare (gold)
Known brands:
Playable Characters
Edit
Collections
Edit
Ad blocker interference detected!
Wikia is a free-to-use site that makes money from advertising. We have a modified experience for viewers using ad blockers

Wikia is not accessible if you've made further modifications. Remove the custom ad blocker rule(s) and the page will load as expected.